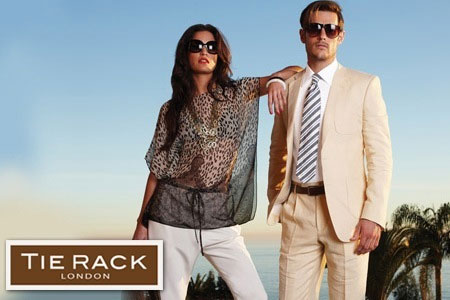 Have you got to grips with Groupon deals yet?
With this one, you pay £10 and in return you'll get a £25 voucher to spend at Tie Rack - that's all there is to it!  No catches, no hoops to jump through and one of the quickest ways of doubling your money (plus a fiver) that I know off.
I remember when Tie Rack first hit the high street, I loved it.  I still do.
Not because I like wearing ties, obviously, but because there's something about seeing lots of ties all lined up in spectrum order that does it for me.
Apart from that, Tie Rack don't just sell ties.  I bought two LOVELY pashminas from the Tie Rack at Heathrow Terminal 5 at Christmas time and they do all sorts of other accessories too like cufflinks, scarves, wallets and purses.
If you're stuck for ideas for Father's Day then this Groupon Tie Rack voucher might just be your 'get out of Father's Day jail for a tenner' card.
You can only use it online, so I'd print it off and put it inside a Father's Day card and hand it over on Sunday (that's when Father's Day is by the way, just in case you've been missing our ohhh-so subtle hints over the last few weeks!) with breakfast in bed and a laptop.
You win a stack of brownie points and Dad can browse around www.tie-rack.co.uk whilst eating croissants and drinking coffee.
You MUST buy this before 11.59pm TONIGHT otherwise you'll miss out and the relevant voucher code information will be sent to your registered Groupon email address.
Thanks to Antj87 at HUKD