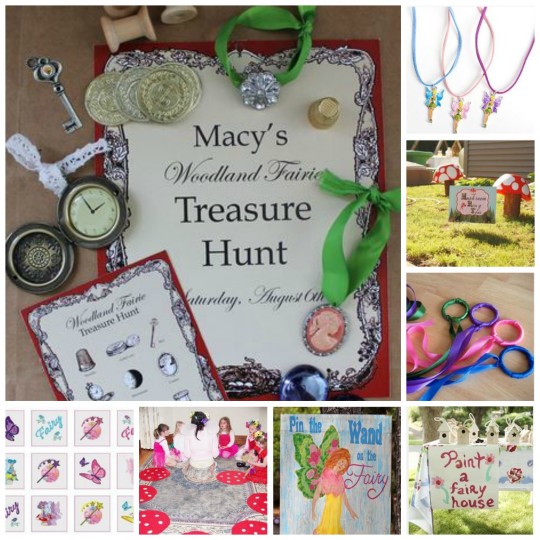 Fairy parties need some fun and games, and while you can personalise it as much as you want, you don't have to break the mold too much to have a lovely party.
Something as simple as a treasure hunt will keep small people occupied for a while, and they'll have loads of fun! Golden coins, buttons on ribbon, thimbles - the stuff of imaginations.  The toadstool ring toss is genius too - a few upturned bowls on tree stumps, and hula hoops make a great twist on the original game. And the toadstool musical chairs is really sweet too - no sew felt circles with red dots on them, so fun. I'm just wondering what you could re-purpose them as when the party is done?
If you want to play pass the parcel, why not skip the candy or lollies and put a fairy tattoo sticker* in each layer. The children will enjoy them for days.
The same again for the Pin the Tail on the Donkey Wand on the Fairy - a party classic, turned fairy party masterpiece.
If your little ones like crafting, paint a fairy house is great if you can use pound shop bird feeders.
Those little fairy necklaces* top right will make a great set of party prizes, or treasure hunt prizes, or simply gifts from the fairies. And using shower curtain rings wrapped in ribbons are great fun for little people running around dancing with them in the wind behind them too. I can just picture it. Again, these would make lovely party favours or game prizes, or just fun decorations.
For more fairy party ideas, check out our Pinterest board!
Follow PlayPennies's board Fairy/Tinkerbell Party Planning on Pinterest.