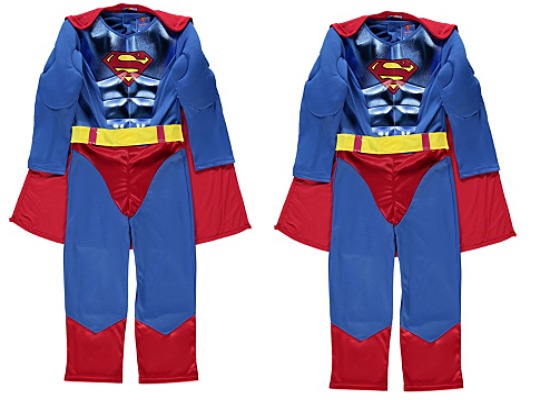 Kids love to dress up and what better to do it in than this Superman Dress-Up Costume from Asda George? It's super cool and now super cheap too. It was originally £13.50 and is now only £6. Perfect for those fancy dress parties and superhero days at school. There are only sizes 7-8 and 9-10 left as this price is GOOD, but it's maybe worth looking in your local Asda store should you need a different size.
The Superman Dress-Up Costume comes with a detachable belt and cape. It's actually a really good Superman costume for the price as it is quite detailed. With it's metallic padded chest and torso, your little one will feel like he/she is ready to take on the world.
Superhero costumes are always a popular choice of dressing up wear so it's worth grabbing one of these while it's cheap. It would make a great birthday party gift or even for any impromptu fancy dress events that pop up.
You can Click and Collect the Superman Dress-Up Costume for FREE from an Asda store near you or pay £2.95 to have it delivered to your home.