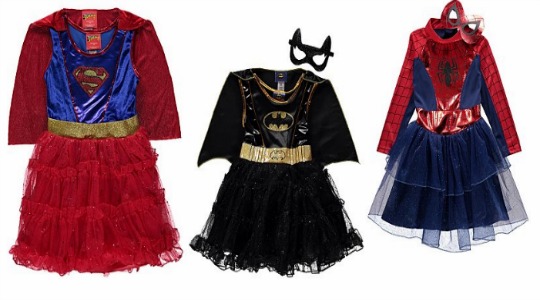 There's nothing like a bit of 'Girl Power' on a Thursday. Asda George have made my day. Growing up, I was a massive Batman fan and whilst I realise that it's BatMAN, I couldn't help but feel like all things superhero were aimed at boys. We NEVER had anything like these Superhero Costumes from Asda George. They start from just £13.50 and are most definitely a step in the right direction.
There are three to choose from and I have heard of a Captain America one coming soon too:
These would make fantastic Christmas presents for any little miss that wants to be a feminine superhero. You can of course opt for the original costumes as they don't have to be just for boys.
They come in sizes 2-3 years old through to 9-10.
Be quick! These are super cool and because of that we can see them flying out the door, just like a Superhero.
You can Click and Collect for FREE from an Asda store near you or pay £2.95 to have it delivered to your front door.