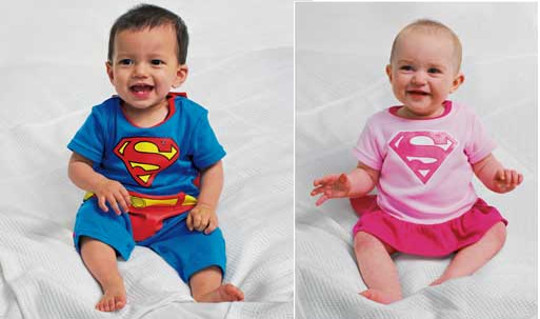 Argos have taken a 1/3rd off these really cute little Superman and Supergirl rompers, reducing them to £5.99 from £9.99. If you can click and collect for free, they're a lot of cute for the money - and an ideal way to get a smaller sibling involved in a bigger one's play!
Who doesn't love a superhero, and these little Superman and Supergirl rompers are a great addition to a novelty wardrobe.
They are designed to be either played in or slept in, although for the age group, they shouldn't see too much rowdy play - it's nice to know that they should be comfortable enough for sleep though.
Both the girls and the boys romper comes with a removable cape to finish the look and they are made of 100% cotton, so nice and breathable for babies skin, especially in the summer months.
The Superhero rompers are machine washable at up to 40C, and there seems to be plenty stock in three sizes from 0 - 9 months.
I'm thinking of a friend's little newborn come Halloween right now! Super cute Superman.