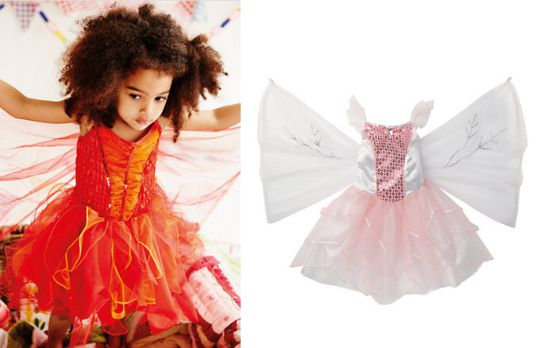 Dressing up box needing updated? Head on over to Early Learning Centre where you will find two outfits reduced from £16 to just £5. That's an £11 saving! Both the Snow Princess and Fire Fairy Dress-Up Costume are now just a fiver! These would make great gifts and at this price are worth buying now and keeping for Christmas.
The Snow Princess Dress-Up Costume is a pale pink  dress that has a glittering bodice and detachable wings. This is ideal for those fancy dress parties or school dressing up days. Why not pair up these ELC Ballet Shoes* for just £2.50?
The Fire Fairy Outfit is true to it's name, this little dress has a skirt that looks like flames. Very cute indeed! These reduced ELC Red Sequin Ballet Shoes* would look great with this and are only £2.50.
Both dress-up outfits are suitable for children aged three to eight years old.
You can Click and Collect both the Snow Princess and the Fire Fairy outfit for FREE from an Early Learning Centre store near you or pay £3.95 to have them delivered to your door.