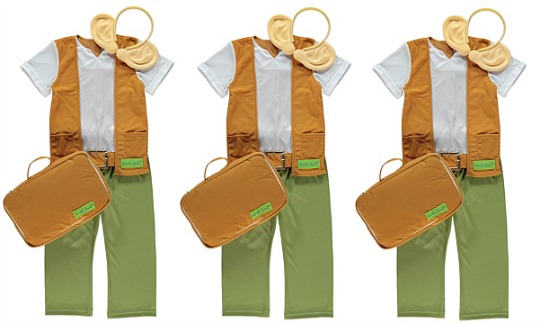 This is a fancy dress costume that would go down well in our house.... we just love Roald Dahl. His books have never dated and my kids enjoy them every bit as much as I did. The BFG (Big Friendly Giant) is one of our all time favourites and it's not too easy finding merchandise relating to it, never mind an outfit. Asda George have reduced the Children's BFG Outfit from £12 to just £6.
The Children's BFG Outfit comes in four pieces: the trousers, the top, a bag and those famous ears on a hairband. It's easy to get on and off with the hook and loop tape fastening, plus it's got an elasticated waistband to stop any slipping.
It's made from 100% polyester except for the trims and is hand wash only, as are a lot of fancy dress costumes.
It's ideal for school dress up days when it's World Book Day for example, if you are having a fancy dress party or if the kids want something new in their dressing up box.
You can Click and Collect the Children's BFG Costume for FREE from an Asda store near you or pay £2.95 to have it delivered to your front door.