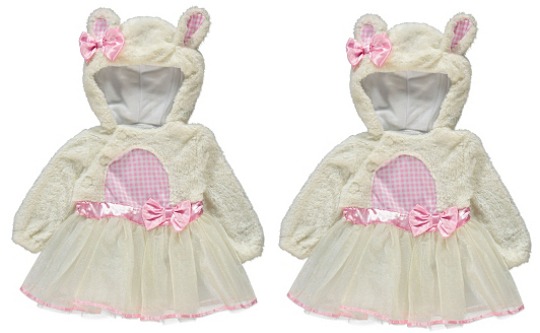 OMG! If this isn't cute then I don't know what is. Needing something mega cute instead of something gruesome for Halloween? Check out this Lamb Tutu baby outfit for only £4 at Asda George. This was £8, but Asda has kindly halved the price.
This adorable Lamb Tutu fancy dress outfit is available in sizes, 6-9, 9-12, 12-18 and 18-24 months. It has a layered tutu attached, and a hook and loop fastening at the back. The cuffs around the ankle and wrists are elasticated.
I am seriously contemplating asking my other half for another baby in hope I have a daughter, just so I can buy this outfit. Look at it, a fluffy lamb and a tutu. That's like ridiculously sweet.
Collect your Lamb Tutu outfit for free from your local Asda or pay £2.95 to have it delivered to your front door. Why not check out this cute bunny* all in one too, which is also half price.