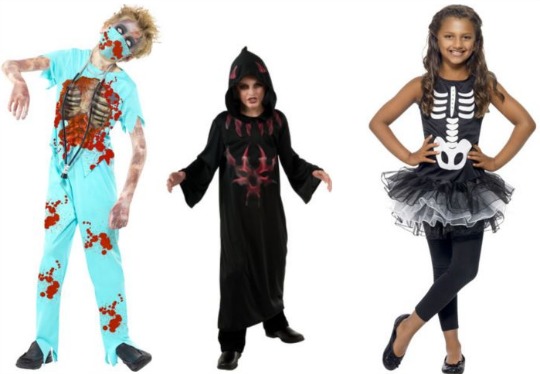 Tesco Direct are feeding our dress up fascination with a cracker of an offer. They are offering £5 off when you spend £25 or more on Halloween goodies, like outfits, props and accessories. Simply choose your Halloween costumes (some are reduced) and once you have hit that magical amount of £25, head to the checkout, £5 will automatically get deducted from your total. That's not all, there's another potential saving of £5, if this is your first Tesco Direct order then you can use eCoupon TDX-GK4P for another £5 off! Just make sure your order comes to £30, to get the full £10 off.
Have you got a Halloween party to go to? Or perhaps you are throwing one yourself? Get over to Tesco Direct, as there is something for everyone.
Here's my favourite buys for the whole family: Dad would look fantastic in this Grim Reaper outfit* at only £10.99. This has been reduced from £14.99. For Mum, this Red Hot Devil costume*, it's spooky, and a touch sexy without being too adult. It's £12.99, and is available in a variety of sizes.
For the kids, I like these three costumes, Devil robe* for £7.99, Zombie Surgeon* reduced to only £9.99 and this Skeleton Tutu* is £10.99, for £11.75.
Remember to use eCoupon TDX-GK4P if you are new to Tesco Direct. You can find eCoupons and other discount codes over at our vouchers section.

Thanks to Chanchi32 @ HUKD