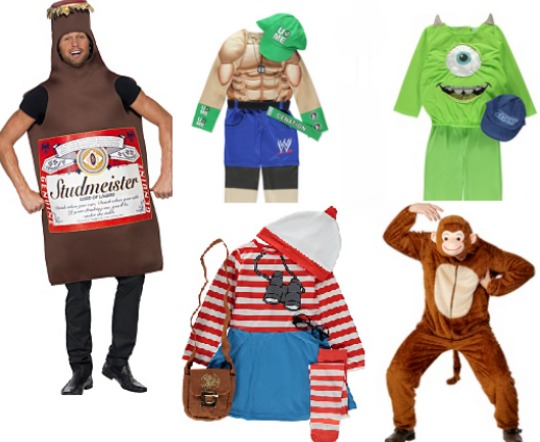 Well it's that time of year when we ought to start thinking about Halloween outfits. It's not just the kids that enjoy the dressing up, but us fun loving adults, will do it for any excuse. Sometimes we opt out of the scary attire meant for the pumpkin season, and pick something either humorous or sexy (adults, only of course).
When I put on something sexy it is a darn sight scarier than any witches costume. Anyway, no matter who in the family is needing a fancy dress outfit, head over to Asda George where they have heavily reduced some of their costumes. They start at only £5, get over there now!
This Where's Wanda outfit* is the female equivalent of Wally or Waldo (in America). George have cut the price of this down to only a fiver from £12.50 and includes the hat, pouch and those all important glasses. The adult versions are available for women* and men*. These were £25 but now only £10 each. WOW!
Another adults one that is down to a tenner is the Beer Bottle costume, here*. I find this one hilarious, and will probably be a favourite of many mums and dads. You gotta look at this Monkey one* too.
For kids, check out these outfits, John Cena Wrestler* and Monsters University Mike*, these are both only £5 and had been selling for £12.50.
Save those pennies and nip down to your local Asda to collect your order, which is free or pay £2.95 to have it delivered.