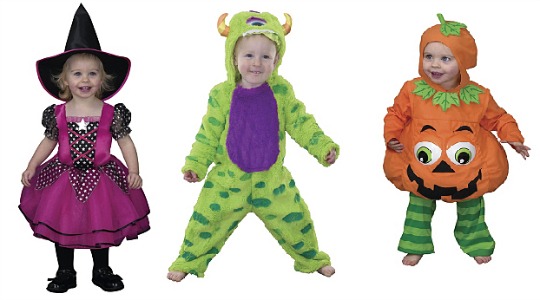 Why thank you very much Asda! 25% off of fancy dress costumes, well not just those but all children's George clothing. The 25% off discount comes off automatically at the checkout. What great timing though, for these Halloween party costumes. Please note, some items already have there discount showing.
Whether you are after something scary or something more Awwww, George at Asda will have that outfit you desire. For babies at Halloween time, there's an absolutely hilarious Frankenstein costume* for just £6 today. It's available from size 6-9 months through to 18-24 months. I also think this Eeyore outfit* is to die for at only £7.50.
For little girls, this Little Witch outfit* is a bargain at just £4.50, as is this Little Devil one* for £6. There's some Disney Princess outfits, but Elsa has long gone, I am afraid.
As for the boys, the choice is fabulous. Check out this Hooded Skeleton outfit* at only £4.50. It's available in sizes 1-2 and 3-4 years. My ultimate favourite just has to be this Hooded Monster Outfit*, it looks ace, at £6.
Save even more money by collecting your fancy dress order for FREE from your local Asda store, or have it delivered for £2.95.