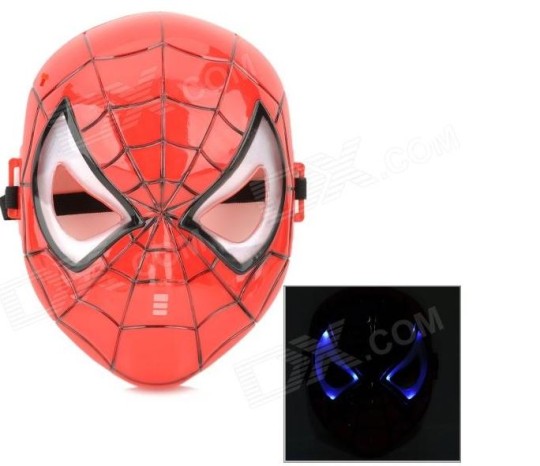 DX.com are selling glowing Spiderman masks for £3.07, delivered for free to the UK. According to our friends on HUKD, these are good quality and great for kids. Whether you're planning a fancy dress party, or gearing up for Halloween a little early, these are really great value.
First things first, you may receive this as a black or a red mask, you won't know till it gets to you. Some people say it's great value and lasts and lasts, others have said it has arrived in less than pristine condition. At £3.07 it's worth a gamble.
The lights around the eyes light up with powerful LED lights at the flip of the switch positioned at the top corner of the mask. Apparently it's an exact replica of Spiderman's mask. There's also an elasticized strap that allows for a comfortable fit. The mask measures 8.46 inches by 6.3 inches in size.
If you look at the price in US$ there's a little arrow next to it that lets you change the currency and see the price in Pounds.
I'm sure this will go down a treat with your little superhero.
Thanks to GoonertillIdie at HUKD