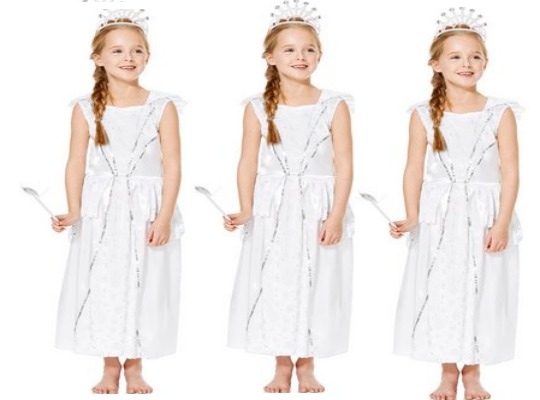 Did you know that Disney's Frozen was based on the classic tale of The Snow Queen? If you have pretty much done all of your Christmas shopping, then firstly I applaud you, secondly, this Ice Queen dress is a very affordable extra for a little Elsa fan. It's not a Disney outfit, nor is it a copy of Elsa's dress, but it is only £5 from F&F at Tesco, and would be a great alternative for Elsa dressing up time. Just click the link below and scroll down halfway to find the costume.
This will go down a treat at Christmas even if you don't use it as an Elsa alternative dress. What little one doesn't want to dress up in this twinkly outfit?
For £5 you get a velour, sequin trimmed dress, a sparkling tiara and matching wand. This is really worth the money, It's available in sizes 2-3, 3-4 and 5-6 years old.
You can click and collect this Ice Queen Dress-Up Costume for FREE from your local Tesco, which might seem like the better option since we are never out of the supermarkets at this time of year. If you have done enough trailing about the shops then you can opt for delivery at a cost of £3.95.
Thanks to BDgirl @ HUKD