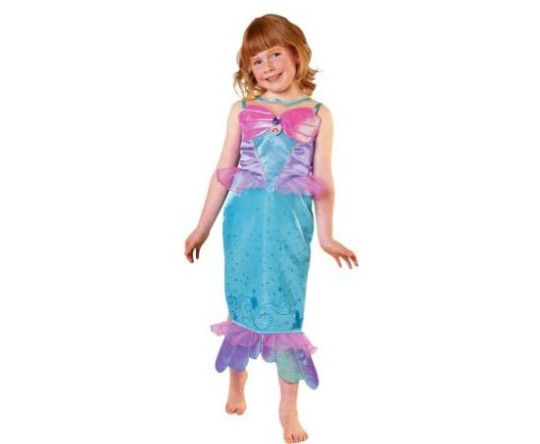 Argos have the Disney Royale Ariel Dress Up Outfit on sale for £4.99. If you have a little princess who likes to pretend that she's a mermaid, you'll know how hard Ariel can be to find at a decent price, and reduced from £16.99, this is a pretty decent price. Specially since it's £29.99 on Amazon. Unfortunately it's only available in size 3-4 though, so a pretty limited audience.
As is always the case with Argos, stock can be a little hit and miss, but it's still 100% in stock in the three post code areas I checked, and also available for home delivery.
I really like this costume, and more specifically the fact that the pencil skirt is short enough to at least attempt to prevent falls and tumbles while playing, with just the front of the tail hanging down to almost the ground.
Your little mermaid can transform into Ariel from Disney's The Little Mermaid.It's probably one of the few times my little girl wouldn't be miserable with her outfit not being all pink, since the beautiful blue, pink and lilac dress comes with a shimmery bodice. Shimmery is always good.
I also love - with my overprotective mummy hat on - that it's an 'innocent' mermaid outfit that doesn't show off the midriff or more. Just perfect for a little girl to have hearty, child like fun in.
Thanks to Vanessa who let us know about this on our Facebook page!