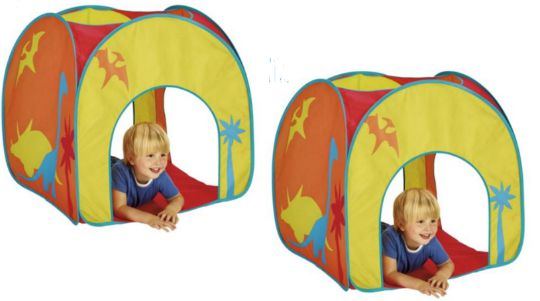 What do you do when the weather is rubbish outside and colouring in just isn't cutting it? Get a PLAY TENT! The kids can burn off some excess energy and enjoy some imaginative play at the same time. Tesco Direct are selling the Tesco Dinosaur Play Tent for only £7 reduced from £10, and it's included in Clubcard Boost, so you would only need £3.50 to convert to get this. Bargain!
The Tesco Dinosaur Play Tent can be used inside or out which is handy if we get a good sunny day (good luck with that!). It's brightly coloured with dinosaurs and palm tree decoration on the outside.
This Tesco Play Tent is really easy to put and and to fold down. It can be stored easily too, so worry not if you don't have much space.
There's nothing fancy about this Dinosaur Play Tent but I reckon the kids will love it and at this price, so will you.
You can Click and Collect the Tesco Dinosaur Play Tent for FREE from a Tesco store near you or pay £3 to have it delivered to your front door.