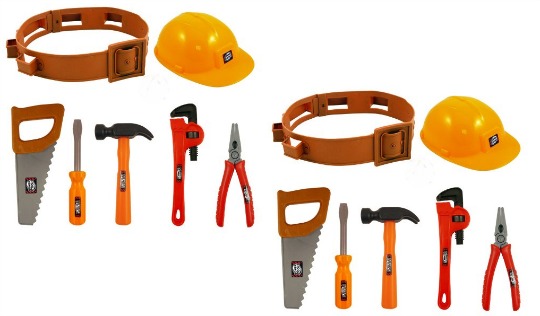 Who doesn't love dressing up? Any excuse and us adults are having Fancy Dress parties. As a child, we favoured the dressing up box over other toys. It doesn't have be expensive...check out this Child's Builders Fancy Dress Accessories Set from Amazon Seller Grids London for example. Get it for just £3.49 and that's with FREE delivery thrown in.
What's in the Child's Builders Fancy Dress Accessories Set? A builder's hat, a tool belt and an assortment of tools including a saw, screwdriver and hammer. Everything a little one needs to imagine that they are the real McCoy.
Reviews are mixed on this, but I figure for £3.49 delivered it's worth the gamble. It's a nice wee present for a little one with a good school report or for behaving well.
Another good use for it is for party game prizes. Wrap it up a billion times for Pass the Parcel, the kids will LOVE it. You can wrap up anything and play Pass the Parcel and the kids will go crazy for it, even if it's rubbish.
This is a nice addition to the dress up box and it won't leave you skint.