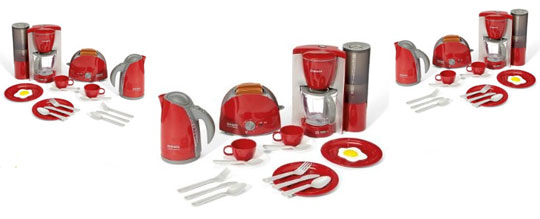 So, you're the proud owner of a brand new, top of the range, wooden diner kitchen but you haven't got any kitchen tech' gadgets to put in it!  Pop over to the ELC and you'll be able to pick up a Bosch Breakfast play set for £15 instead of £40.
I have to say, this Bosch Breakfast play looks pretty fabulous, if there was a real-life, fully-functioning version I'd be pretty tempted to have it my own kitchen - especially if I could get it all for £15!
It features a kettle, toaster, coffee machine (essential!) two plates, two cups, two saucers, two knives, two forks, two spoons, two teaspoons, two slices of toast and a fried egg - no sausage or hash browns?!  Well I suppose you can't have everything for less than £20.
I really wish the ELC had a free collection/delivery to your local store option as their delivery charges are £4.95 - if you combine this with the wooden diner kitchen then delivery is free, but if you just want the Bosch Breakfast play set then it might be worth a quick nosy in your local ELC, if you happen to be passing, to see if this discount applies in-store too.
Thanks to staceymacdonald (still no relation!) at HUKD