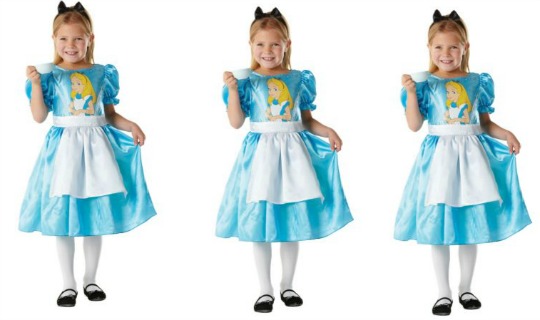 The small (3-4) and large (7-8) are still £14.99 but if you have a little fan that age 5-6 years would fit, it's just £5.99 from Argos. I've had a good look round and the stock levels are high.
My daughter and all her friends love dressing up, as do most kids I think. This Alice In Wonderland Outfit is a great chance to add to the dressing up box without breaking the bank. Some costumes can be pretty pricey and although it's lovely to have special costumes, it can't just be me that's loathed to let them out playing in a fifty pound number from the Disney Store.
Alice herself needs no introduction I'm sure but this would be a great one to grab now and put away if your child's school takes part in World Book Day – saves scrambling at the last minute or spending a fortune.
It has mixed reviews, some people felt it was a little lacking in quality but again this brings me back to the price and also begs the question – do kids every really notice the quality or indeed care? Not in my experience at least.
You can reserve it for free at an Argos near you and unlike the other two sizes at £14.99 where delivery is free, you have to pay £3.95 if you want this one delivered to your home.