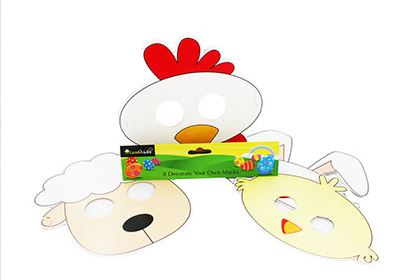 The Works has so many specials, offers and good deals on at the moment that it's a little hard to keep up at times, but one that caught my eye today was a pack of eight Decorate Your Own Easter Masks for just £1. Maybe I over pay in general, but that sounds like an amazing deal to me. Throw in a bunch of other Easter themed crafts and accessories, from 59p  to make up £10 and you can use the code on the website for free delivery.
My children have been too young the last few years to really 'need' to have Easter Egg hunts, but they're definitely getting to the age where they would know now, if they were missing out. Not helped by random strangers in shops asking them if they like chocolate, or will be getting eggs for Easter. So we'll probably have to get on that soon...
If you're having an Easter party, these would make a great activity for the kids, and they could dress up for the hunt too. What fun.