50% Off Kids Fancy Dress @ Tesco Clothing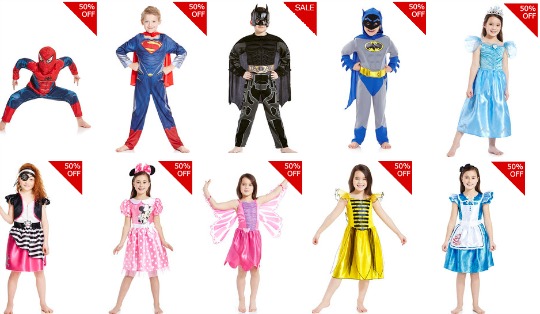 Limited sizes and going fast but you may grab a bargain!
There's currently ten outfits that have 50% off, six for girls and four for boys. I won't bother listing them all as yeah, that would be boring for me to write and for you to read. I do love The Alice in Wonderland which is £6 (as many of them are) reduced from £12.50 and Spiderman, who's also £6 reduced from £12. Although Tesco quite clearly splits these, my daughter has many a Princess outfit in her dressing up chest but also more than her fair share of werewolves and costumes aimed at boys in general. If kids are happy with that, why not? I'm not a big fan of labels.
As I said earlier, each outfit will have limited sizes available and stock is going quickly, so if you're looking to add to the dressing up box or even get organised early for Halloween, head on over now and check it out.
The up to 50% sale* started online today as well, so may be worth a look too.
Delivery to a Tesco near you (and I'm sure there's one near most!) is free or standard delivery will cost £3.95 or is free over £50.