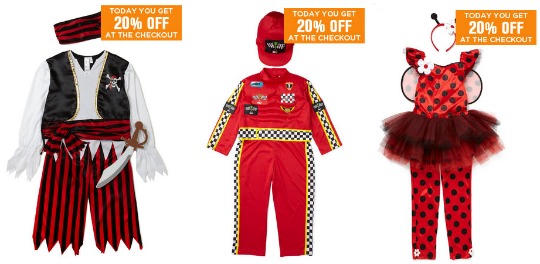 BHS have an online only offer of up to 30% offselected Kids Clothing, and with World Book Day coming up it's a good place to grab a cheap Fancy Dress Costume. The costumes start from £12, but with the extra discounts being deducted automatically at the checkout you can get a full dressing up outfit with accessories from as little as £9.60. With the free click and collect service, this is one of the best prices you can get for a costume.
The cheaper costumes tend to be generic ones like a pirate, nurse, racing driver, fairy and a ladybird, but these are probably more suited to World Book Day anyway. I'm not sure I remember many children's books about Batman or Transformers, but I could be wrong. (Do comic books count?)
The same offer applies to all sorts of selected Kids Clothing and Accessories, including lots of character items like Frozen, Spiderman, Minecraft and more, so even if you don't need any fancy dress the clothing is worth taking a look at too. These are also on the link above.
Home delivery is free when you spend over £25, or £2.99 when you spend less. The click and collect service is free.