Yellowstone Pac-Flat BBQ £13.03 Delivered @ Amazon Seller: Bargain Warehouse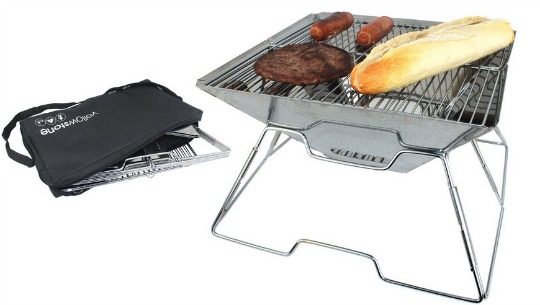 How was your Easter Sunday? We had cracking weather where we were and I really wished we could have had a barbecue. The thing is if I had known the weather was going to be so good I would have been prepared. If you want family days out on a budget and plan on outdoor adventures then you have to check out the Yellowstone Pac-Flat BBQ from Amazon Seller: Bargain Warehouse. It's only £13.03 with FREE delivery. Look to the right hand side to find this BBQ at this bargain price!
If you plan on camping with the kids then you need a Yellowstone Pac-Flat BBQ in your life. Check out the reviews online....it has a four and a half rating and thirty rave reviews. The more I read about it, the more I am convinced I need one.
As the name suggests it does in fact fold flat and has it's own carry case so you can transport it with ease. It can also be used as a firepit in the garden for when the nights cool down. It's easy to put up and down.
You need charcoal just like any other Barbecue, and the reviews suggest that this beats disposable ones hands down.
Amazon are also running an offer on Camping Gear...Spend £50, here* and get 20% off when you use the promo code CAMPING20 at the checkout.