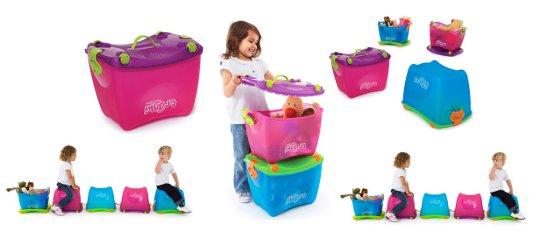 This is rather lame, but I'm quite excited by this offer! There are two Trunki Travel ToyBoxes for £20 available at Trunki, making them £10 each. The cheapest price I can find them for elsewhere is £14 at Amazon, but they have free shipping, whereas shipping from Trunki is £4.99, or free on purchases over £50. (So if you were just buying one, it would actually be 1p more buying from Amazon).
The 4 in 1 Trunki Travel Toy Box is the world's first ride-on, push-around travelling toy box. It fits perfectly behind the driver's or passenger's seat in a car so that your vehicle looks a little less like a travelling toy box too. When the lid is on you can turn the whole thing over and it is a ride-on toy box, and also doubles as a rocking cradle for dolls.
The really cool feature with these is if you have more than one you can clip them together to make a Trunki Train – something my daughter loved at the Baby Show where they did a demo.
The boxes are durable and lightweight and great for toy storage at home or on the move.
Thanks to fairycake88 at HUKD