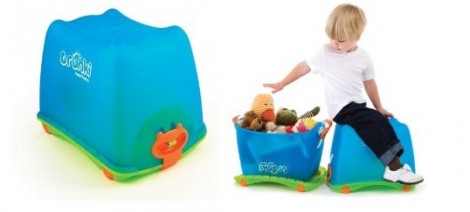 I'm not sure but I think that perhaps Trunki are taking their concept a little bit too far. Using the same concept as the suitcase, the Trunki Travel ToyBox is, well, a toy box that you can sit on and ride! Amazon has this reduced at the moment from £19.99 to £12.86.
A little bit of effort, however, has gone into making this just a gimmicky toybox. The box itself also doubles up as a toy too. It also doubles up as a rocking cradle to help teddies get a well earned rest, and if you own more than one toy box, you can clip them together to make a Trunki train.
When travelling, with the lid on, turn the whole thing over and it becomes a ride-on toy box. At home, the lid clips neatly under the box for access to the toys and the whole box can be wheeled and pushed around by little ones.
I don't think I'd really have much need of a toybox that travels, so I might be a bit biased against it. My mate who spends at least one weekend a month with her parents thinks it is quite a good concept. Not just for giving the child responsibility for packing their own toys but for making it easier to keep things tidy at the grandparents, who aren't used to piles of toys lying about.
Thanks to lucerysmum at HUKD!