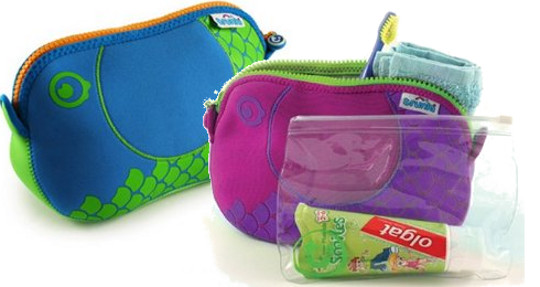 Trunki Travel Chums Wash Bags normally retail at £9.99, but they're currently on offer at Amazon for £6.50 for the pink or £6.99 for the blue. They're covered by Amazon free delivery too.
I have a long flight coming up with my two little girls and the Trunki is almost packed full of travel accessories, like activity books, plane-friendly games and a few snacks. Nineteen hours on a flight with two little ones is going to be fun, fun, fun - and that's just me! Lol. This Trunki wash bag looks like the perfect thing to have packed and ready for the flight. Put all the liquids in a plastic bag inside this and you're set to go.
The Travel Chums Wash Bag has a zip opening and a plastic clip as well as an internal pocket. The bag is reversible neoprene, which I think means it'll dry very quickly too?
It measures 13.5 cm by 8 cm by 23 cm (height, width, length) and weighs 95 grams and is suitable for children 3 years and up.