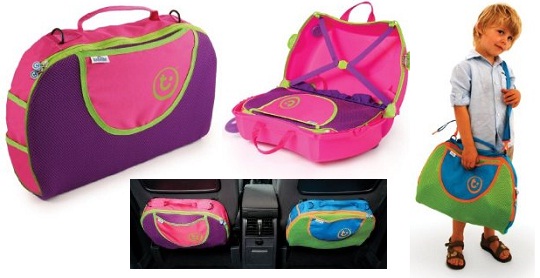 A Trunki Tote Bag is designed to fit inside a Trunki. Amazon has it marked down from £9.99 to £6.99. It is available in pink/purple, and you can also get it for the same price in blue/green. For the blue/green Trunki Tote Bag click here. Delivery is free with Amazon Prime.
This tote bag works as a handy organiser inside the Trunki, from what I can tell from the description. On the website it says that the mesh bag  fits snugly inside one half of a Trunki to put all your journey toys and activities inside.
It then works as a tidy outside the Trunki too. There are two plastic clips on the back that allow the Trunki Tote Bag to be clipped on the back of a car or plane seat,  so toys and games are easily accessible for the whole journey.
To turn it into a shoulder bag, you can use the Trunki detachable shoulder strap and clip that onto the hoops at the top of the Tote (the strap is not actually included with Tote, you use the one that comes with Trunki Ride-On Suitcase).
The Trunki Tote measures 28 cm by 42 cm by 80 cm (height, depth, width). The Tote weighs 195 grams.
Thanks to andywedge at HUKD!