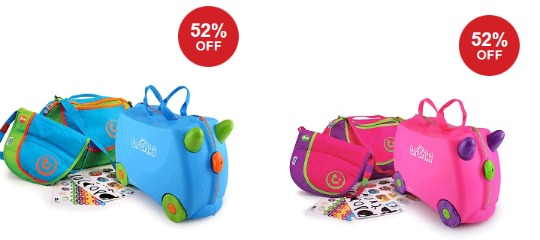 With 52% off Trixie and Terrance are now just £30 and as they're over £29.99, delivery is automatically free.
"Normal" trunkis can cost more than this so what's so special about these, what does "fully loaded" mean? In these you get a tote bag (this can be clipped onto car/plane seats), a saddlebag, which makes for a comfier rider and a horn and sticker sheet. It can be pricey adding these on if your kids decide they want them after you've purchased the initial trunki.
The "normal" Trixie is £29.99 on Kiddicare, so for that extra 1p you get the fully loaded version with all of the above.
My daughter loves her trunki, packing her own items and riding around the airport. These can be taken aboard as cabin luggage with most, if not all, airlines we've flown with but it's always best to just double check to be on the safe side.
Thanks to carronwalker7 @ HUKD!