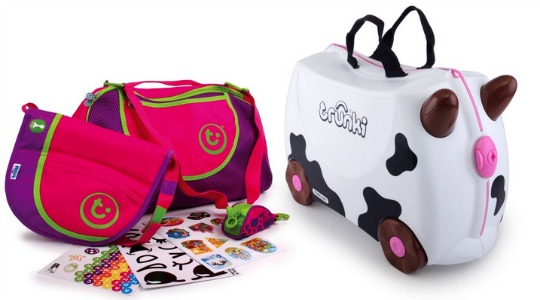 Going on holiday soon? You lucky so and so. Think of me stuck in the rain here whilst you sun yourself on the beach. You may need some luggage for your child. We have stumbled across this Trunki Frieda the Cow Ride-on Suitcase and Extra Bundle for just £37.68 at Amazon. That includes FREE delivery. This specific Trunki is £37.99 on it's own, without the extras at Argos, so we reckon it's a great deal.
What do you get with the Trunki Frieda the Cow Ride-on Suitcase and Extras Bundle? A Frieda ride-on suitcase with tow strap and passport, a Pink tote bag with strap, a Pink saddlebag, a Pink purse and a Sticker pack. That's everything you need whether you are going by plane, train or coach. Check out our travelling with Young Children Tips, here.
This Trunki is cow themed and has horns for holding on. If you are needing to be on your feet a lot, then it's not so much of an issue with one of these. It is definitely more fun having one of these. Plus, you have that saddle bag to keep a colouring book in and some snacks.