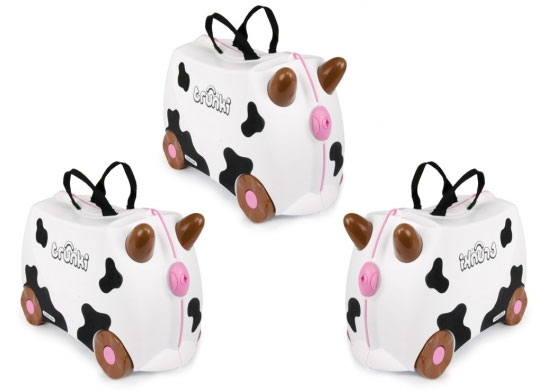 If you want to moooove along on your luggage, then you need a Frieda the Cow Trunki (I'm sorry, the whole 'moooove' thing was just too good to pass up) and you can pick one up from Play for £24.99.
Frieda usually costs £37.99 - Amazon aren't in the price running at the moment, they're currently selling her for £31.99 - so £24.99 is a bit of a bargain, especially if you have a thing for cow print!
JUST in case you haven't come across Trunki ride-on suitcases before - they are suitcases, for kids, with horns they can ride on when they get tired, or scoot along on when they're feeling a little more energetic.
The inventors were, now, infamously turned down by the dragons on Dragons' Den, who said the idea was bonkers and would never catch on.  Well, catch on it did - in a BIG way - and Trunkis have taken the children's luggage market by storm.  In fact, if there were grown-up versions, you'd see adults scooting all around the Heathrow terminals on Trunkis too.
You don't need to pay any additional money for delivery, Play will drop off your Frieda the Cow Trunki for free.
Thanks to cookie_monster28 at HUKD