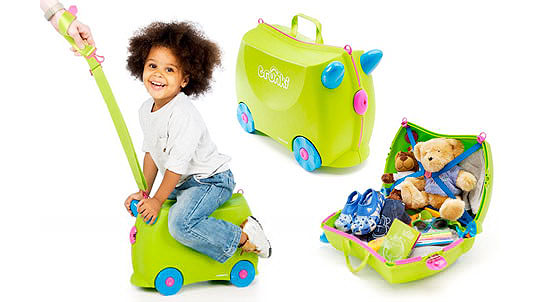 Amazon have various discounts on Trunkis at the moment, so if you've been looking for one and waiting for a good deal you might just find one today.
There can't be that many people left on the planet, in parent circles, who don't know what a Trunki is or have never heard of them.  But just in case - here's a quick Trunki low-down...
They are little plastic character suitcases on wheels; they are designed to allow little ones to either pull them along or sit aboard and scoot along instead - this is done to save their little bodies from the stress and strains of having to carry their luggage in the traditional way.
They have Trunki horns to hold onto and the Gruffalo Trunki has Gruffalo eyes too.  There are all sorts of different Trunkis - Trixie is pink, Bernard Bee is yellow and black, there's a TrunkiSaurus Rex (he's green) and Rox (she's yellow).
There are also ladybird and tiger Trunkis; a purple princess carriage or fire engine Trunki and if you're feeling particularly patriotic you can choose an Olympic 2012 themed Trunki.
Normal Trunki prices are around the £40 mark, these Trunki deals bring the prices down to between £25 and £30 depending on which one you choose.
Happy Trunki riding!