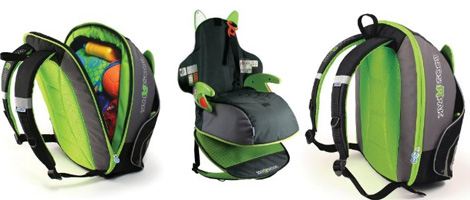 OOOH look! Another great Trunki innovation - ladies and gentleman, I give you the Trunki BoostApak travel pack booster seat!
Trunki products are GREAT! Kids love them; parents love them and some people have still never heard of them, although it has to be said there aren't many people left in this group.
I do like products that can multi-task, heck I like ANYTHING that can multi-task! This Truni BoostApak is a booster seat and a back pack all rolled in to one.
We did a fair amount of travelling up and down the M1 when the Teenagers were small enough to need booster seats - they were finished with them when the law changed to being 12 years old, or younger, or under a certain height - and on long journeys like that, they used to pack all sorts of toys to play with at the other end.
Then they'd go off out for the day, or the weekend, with the grandparents and we'd all play muscial cars with bags of toys, booster seats, and all other associated paraphernalia.
I rather wish we'd had a Trunki BoostApak or two back then - pack all the toys and bits into the back pack part and off you go!
They will prove incredibly useful if you travel on public transport a lot too, allowing your child to look out of the windows on trains and buses.
The covers are wipe clean, the seat belt lap guides fold in and out, the seat belt height guide is adjustable so the Truni BoostApak will grow with your child.
They should be £39.99 but have been reduced down to £29.99 BUT, be aware that this Amazon price deal expires at 23.59 TONIGHT.
Thanks to ellie-mai over at HUKD!