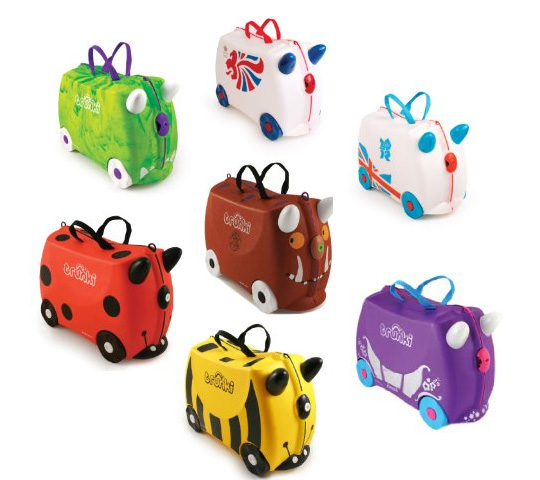 If you pop over to Amazon you'll find some rather tremendous Trunki bargains to tempt your kiddie luggage taste buds with.
Hauling cases is no fun, especially when you're little, and one day a bright spark came up with the idea for a little ride-on-tow-along suitcase for kids - the TRUNKI was born!  Full of excitement and enthusiasm for the kiddie case that was fun and would reduce the stress and strain on the joints of small travellers, the inventors took their Trunki into the Dragons' Den and asked the dragons for some financial help.
The dragons laughed at the Trunki case and their creators, all declaring they were OUT!  However, the Trunki inventors were so sure of their little case for kids they refused to give up and the Trunki is now part of the elite group of things that the Dragon's Den dragons missed - the Trunki became, and remains, a roaring success.
There are various Trunki case bargains to choose from - the Gruffalo, Harley the Ladybird, Freddie the Fire Engine, Bernard the Bee, Penelope the Princess, Trunkisaurus Rex and a London 2012 Team GB Olympics one too!
Prices start at around £25 instead their usual £39.99.
Happy Trunki choosing!