Tripp Luggage Deals @ Debenhams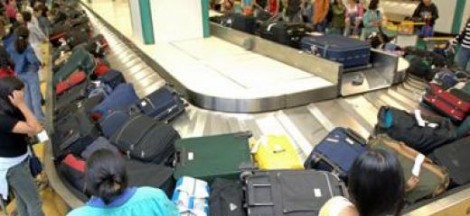 Luggage. There's no getting away from it, it can be expensive but take heart because Debenhams have some great reductions on Tripp luggage at the moment.
I'm in the market for luggage!
I've come to the conclusion that people have a definite luggage personality - there are the plain black suitcase on wheels people (that's me) (was £135 and is now £59), the no-wheels-thanks-wheeled-cases-are-for-wimps people (was £49.99 is now £19.99), the travel-light-can-fit-everything-into-a-case-the-size-of-a-postage-stamp people (was £12 is now £7) and the loud HELLO-YOU-CAN'T-MISS-ME luggage people (was £135 and is now £40.50)!
I've always been a plain black suitcase kind of gal but having waited for A G E S for my case at the baggage carousel at Heathrow recently I began to question the sense of this.  You see, my black case looks the same as EVERYONE elses black case that's trundling round and round and round.
You know when they've all done one loop because someone's bright, loud and colourful bag has just gone round again; everytime you see that stand-out-from-the-crowd bag and yours still hasn't put in an appearance, you start to wonder if you've just missed it amongst all the other ones or whether it's sunning itself on the beach somewhere having got on a different flight!
If you're in need of some luggage then have a wander around the virtual aisles of Debenhams and see if they have something to suit your luggage personality and budget.