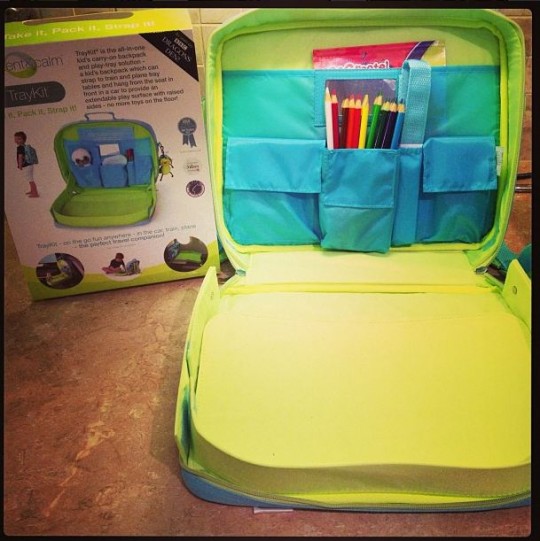 We've done a lot of travel in our time as parents, and as my toddler gets older, I feel it's getting harder than when she was a baby or a tot, and easily entertained, or better, with a bit of planning - like heading off at nap time - sleeping most of the way. Our inlaws live about two hours from us, and some of our friends live an hour to 90 minutes away, so when a nap doesn't coincide, we have to do a lot of entertaining in transit, which is quite hard work.
We've held off buying a DVD player for the car thus far, and I don't really want to introduce the idea of a tablet or iPhone at this stage either, so entertainment is essential, which is where the TrayKit becomes really valuable!
The TrayKit (£24.99) from Content and Calm is an all-in-one carry on shoulder bag or back pack with an extendable tray play surface with raised sides. It can hang or strap around the seat in front of you on a flight or train - assuming the person sitting in front of you doesn't mind! - and the same in a car.
We used it a few weeks ago driving to Gloucestershire for a wedding and it was really useful. The TrayKit has a pouch for books, and four other internal pouches of varying sizes. We put crayons, pencils, stickers, story books, activity books and a few small toys in the back pack and set off.
In the car we were able to open the tray out and my daughter used it for her sticker and colouring activities, till she drifted off to sleep.
The tray also has a straps around it. These can be lowered or raised, depending on what you're doing. The idea is that they can play without the toys falling on the ground, which is definitely a bonus.
The Tray itself folds up again, and into the backpack, so it isn't very strong when folded out, but it's enough to press on when colouring and so on.
Ideally, when you arrive at your destination, you can close up the bag and take it with you, so you don't have - in theory - a mountain of stuff left in the car, or half falling out of your hand bag. You can take it with you and let the play continue.
The TrayKit is small enough to be a kids backpack, but big enough to hold a good amount of stuff, and it fits in the hand luggage on all airlines too.
If you're traveling in the upcoming, erm, summer, this will be a useful bit of equipment to have.