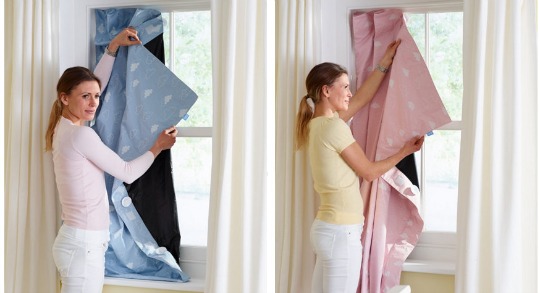 Have you already looked at the Mothercare Nursery Event? It started yesterday and there are some cracking bargains for babies. One of the ones that sticks out for me is these Gro Anywhere Blackout Blinds. They are half price, reduced from £29.99 down to £14.99 each, and that's a great price.
The idea of the Gro Anywhere Blackout Blinds is that they attach to the window with little suckers, blocking out the natural daylight and bright sunlight, creating a darker environment that's more conducive to sleep. The pink and blue colours are reduced to £14.99, and although the black one is also reduced it only has £5 off.
These are a great solution either for your own home, for when you are on holiday, or visiting friends and family. If your children are used to blackout curtains or blinds then the bright sunshine away from home might disturb their sleep, and no one wants that on holiday!
These are also great for when the clocks change next weekend as it will be suddenly lighter in the evenings, and these might help youngsters with the adjustment.
The blinds also fold down nice and neatly to fit in their own bag for travel or storage.
You can click and collect for free or home delivery charges are from £3.95.