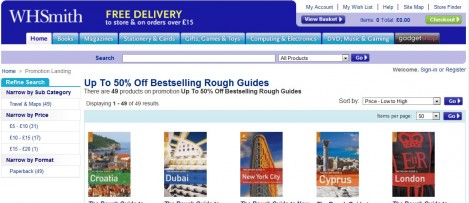 If you're planning a holiday abroad for this summer, you might be interested in the Rough Guides available at WH Smith right now for up to 50% off.
While you can find most information, probably more up to date on line, trying to find an internet cafe or racing up the data costs on your mobile phone while you're abroad, having a printed book on hand can be sweet relief when your feet are aching.
The Rough Guides to … pretty much anywhere... start at £6.99 (was £13.99) for the guides to Croatia, Dubai, New York, Cyprus and Cape Town, the Winelands and the Garden Route and go up to £11.39 for The Rough Guide to China (was £18.99, so a 40% saving.)
If a holiday abroad is not on the cards for you, there's also a The Rough Guide to Britain(£10.19), which takes a detailed look at Britain's history, literature, politics and cultural life with increased coverage of outdoor activities and expert background on everything from King Arthur to the Edinburgh festival.
And if Britain's still too big, there's even a guide to London(£6.99). Even if you're a Londoner, it's a good book to own as there's so much to see and do in London, it's easy to miss out on good things and this could just give you the boost you need to get out and discover the city.
There's free shipping for orders over £15 too, so buy a couple, and happy holiday planning!