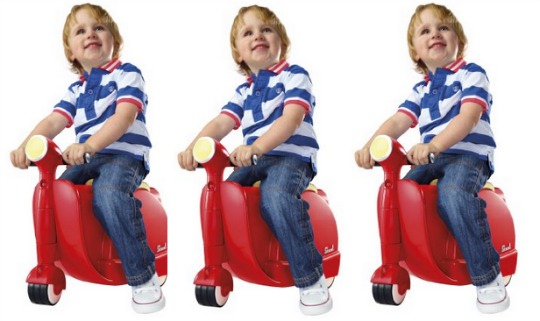 At first sight, I thought this Red Skoot was just a cool Vespa replica ride on toy. How wrong was I? This is in fact ride on luggage, something like a Trunki. We know how popular those are, but they reflect that in their price tags. Get this Red Skoot ride on luggage for just £18 from Amazon, plus you get FREE Super Saver delivery too.
This Red Skoot ride on luggage is suitable for little people aged three years old and over. It's sturdy and has wide rubber wheels for good balance and as smooth a journey as possible. The size of the whole unit is ideal for overhead lockers on planes, thank goodness!
It looks easy enough to drag along when your child gets fed up scooting about on it, or for when your child goes the complete opposite direction in a busy airport. There's a carry strap too. It can be steered completely by the child riding it  as the handle bars control the full steering column design.
This to me is WAY cooler than a Trunki, and I am very tempted to snap up one of these Vespa-esque ride on cases. Not sure I could cope with all three of mine on one of these though!