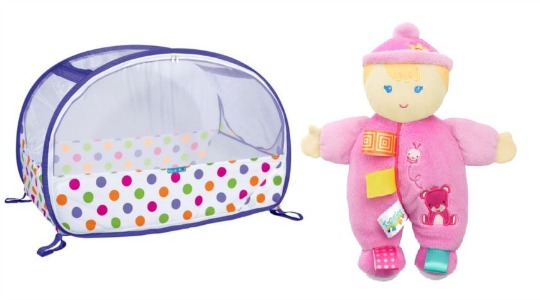 Boots have a promotion on with Half Price on selected Nursery and travel products. It's fairly well hidden on the website, but I came across it by accident. There are around 30 different items that are reduced, and this includes bedding, travel cots, toys, nightlights, highchairs, and more.
The link will take you to the 'online only' offers, and you need to use the 'promotion' drop down menu to choose the nursery and travel offer. Their site won't link directly to the individual offer - I said it was well hidden!
The gro-bags we told you about a few days ago are still waiting for more stock, but there are a few things that are great value.
The Koo-di Pop Up Baby Travel Cot* is a really good buy, as it is now £28.49 including the mattress. The Clair de Lune bedding has a few items included in the offer, and the Summer Infant Lullaby Soother Monkey* is a really good buy at £8.50.
I love the Dragon Night Light*, but it's awaiting stock at the moment unfortunately, or that would be in my online basket straight away.
If  you are expecting, or have a baby then it's definitely worth a quick look. They might have just the thing you are looking for, and remember to take a peek at the final reductions on kids and baby clothing while you're on the Boots website.