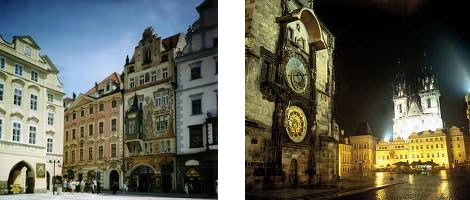 I've long wanted to go to Prague and would be seriously tempted by this Prague City Break as a 'get away from it all' after the madness of Christmas.
When I think of Prague, I think of big open squares flanked on all sides by stunning historical architechture, and stone bridges criss-crossing various rivers.
I think culture, style and romance and I want to go!
If you do too then you need to book by 10 November 2010 for travel in January 2011.
For your £99 this Prague City Break includes flights from London Luton on 9, 16, 23, 31 January, 2011. Departures from Stansted are also available on 9, 16, 23 January for an extra £10.
You'll be staying for three nights in the 4-star Plaza Alta which is located in the Holesovice neighborhood of Prague.
The Old Town (which the the part of Prague I always see in my mind) is only 12 minutes away by tram which stops 50m from the hotel.
Nearby attractions include Prague Zoo, the National Art Gallery and the Botanical Gardens so there's a lot to pack in to your short Prague City Break!
Enjoy and don't forget to send us a postcard!
Thanks to Da_DebtCollector over at HUKD