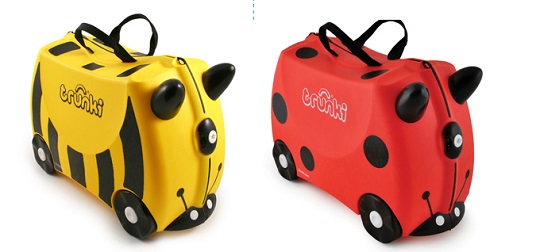 PlayPennies has landed a truly awesome exclusive voucher code with Trunki that will get you 30% off both Harley and Bernard Trunki cases and free delivery. You can't use this code in conjunction with any others running on the site right now, but you can use it as our very cool special treat from Trunki and PlayPennies to you!
Click here to get an exclusive discount from Trunki*
Discount: 30% Off and Free Delivery
Promotional code: playpennies30£off
Expires: 28 February 2014
This nifty PlayPennies exclusive offer with Trunki will get you 30% off and free delivery on Harley Ladybird and Bernard Bee. Trunki was created to beat the boredom so often suffered by travelling tots. Designed to be used as hand luggage, kids can pack Trunki with all their favourite belongings whilst parents keep them in tow. It's made from the same lightweight, durable plastic as adult cases, and has a generous 18 litre capacity for toys, games and spare clothes.
You can find this and many other awesome offers on the Trunki promotional code page here.