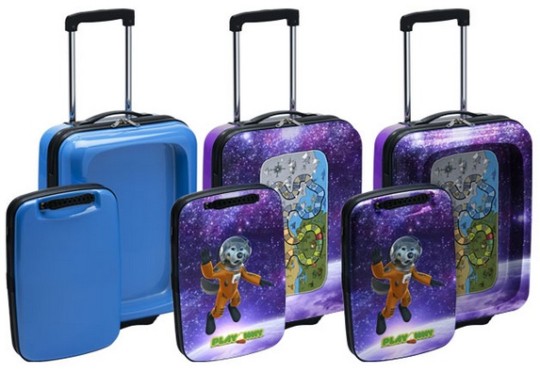 I've never seen the PlayAway Case before today, but I love it! What a great idea, assuming it actually does what it says it does. They are reduced to £39 at Little Bird at the moment, with a £5 delivery charge whether you buy one or ten. They are £54 delivered from Ideal World, and the Penguin case is £49.99 at Amazon, so even with delivery, these are the cheapest I can find them. Plenty of places do actually sell them for upwards of £70.
The PlayAway Case is a cabin sized suitecase and 'entertainment centre' in one. It comes with a removable Playpod with activities on the go to keep kids occupied on car or plane journeys.
The pod comes complete with playing cards, board game, dice and counters, activity pad and 12 quality plastic crayons. It also has a 'secure iPad pocket' for your child's electronics.
The handle has 3 heights to allow adults or children to pull it easily. The case measures 50cm x 34cm x20cm (which apparently fits Ryan Air and EasyJet hand luggage).
You'll receive an extra pack of crayons and activity pad FREE with every order from Little Bird too.
I'd love to hear from anyone who has used these? The reviews on Amazon are pretty good, bar one, and I'm loving the thought of upgrading from the Trunki to this!