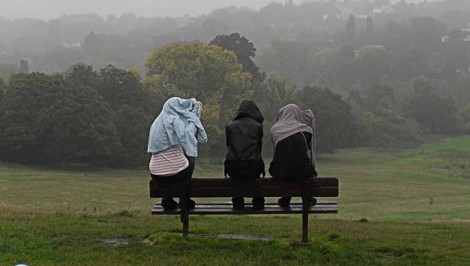 Here we are. The first day of the summer holidays. Are you full of joy at six weeks of freedom from the school run? Or dread at six weeks of finding things to keep the kids occupied? For me, it is definitely a little from column A and a little from column B.
So using our collective PlayPennies parents know-how, here's a selection of fabulous options and ideas that you can use to intersperse between the special treats you might have lined up.
The Ultimate Rainy Day Box
I've written about rainy day boxes before. This year though I decided to go all out and do a mega box of tricks because frankly that soggy July we just had did not fill me full of confidence for August. The idea of weeks of children stuck indoors and going up the walls filled me with fear.
First off, I got a big box I had saved from a delivery a few weeks before. Then when I was next in town I stopped by the Card Factory, which sells things like cards and wrapping paper at really low prices. I got a roll of shiny, metallic wrapping paper and using PVA glue am covering the box to make it look that little bit special.
Then inside I'm filling it with lots of ideas for games (some of this I stole from a Charlie and Lola book). And also printouts and activities from this great website, Kaboose. This is American, but it does have some fab ideas for parents as well as for the kids.
Cheap cinema and theatre tickets
Our regular readers will already know about Kids AM at the Vue Cinemas. Tickets cost just £1.25 each for both grown ups and kids. Viewings are on at 10:30am every morning in the holidays, at most cinemas (you can check on the site). Plus they do a Kids AM combo deal. This is a small carton of popcorn, and a soft drink or juice, for £1.50.
Cineworld does something similar with its Movies for Juniors. This shows classic children's movies for £1, but screenings are limited. With every child ticket you get a free adult ticket at the Odeon Kids showings.
If you're heading to London at all between the 12th of August and the 4th September, then check out the Kids Week site. This has free activities and tickets for children to London shows.
You can also sign up for previews and special screenings. This is a lot more hit and miss than the kids clubs run at cinemas, but it is still worth a try. Check out these links: See Film First, Momentum Screenings, and Disney Screenings.
Indoors but not in your house
I'm lucky, where I live there are a couple of free museums within a short bus ride. Really very handy when you need to take the kids out somewhere to run around but don't want to pay for a crowded, noisy soft play session.
Most of them run all sorts of events too, involving arts and crafts, or learning more about the exhibits themselves.
Living in London, there's also a huge number of free museums a little bit further away too. But you don't have to be in the capital city to enjoy free attractions. They're all over the country, from York's National Railway museum to the National Museum in Wales.
To find out what's near you, or wherever you're going on holiday, take a look at the Do Free Stuff website. This is not the easiest to use website we've come across, and it will take a bit of effort on your part to navigate and find what you REALLY want. But it is worth it.
Your Local Library
It amazes me how many people I know still do not use their local library for their kids. I visit ours just about every week. Of course my son is far more interested in the DVD rentals than the books, but we always manage to spend a good hour in there, both of us fully occupied.
Most libraries have a children's section with at the very least small tables for the kids. Ours has colouring in and drawing items on the table. Plus a few baby toys to play with, and Ladybird shaped cushions and bean bags.
It also runs events throughout the holidays for children, with book clubs for various age groups. And also visiting performers, and activities like getting to hold a small furry animal, or learning to draw caricatures and cartoons. These are all either free, or cost a nominal amount such as 60p.
Plus, it is a great source of information on other free or cheap activities. Such as one great idea I found by looing on the information board at my library. A drop in play group being run for children aged 5 to 10 at a local church hall, for two hours every morning during the first two weeks of August. For free.
And what about ....
Well that's me out of ideas! What else can you add? I'm figuring that this rainy day planning is the best way to guarantee the weather will in fact be dry and warm (I think sunny might be too much to hope for) this summer. Conversely, if I had no plans at all it would rain non-stop! What do you suggest?