Personalised Holiday Post Cards £1.49 Delivered @ Funky Pigeon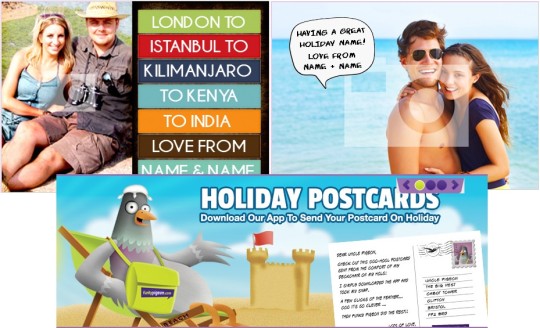 Funky Pigeon are offering personalised post cards, delivered to your recipient for £1.49. What makes this different to the norm, is that you can download the app before you set off on holiday, snap a picture on the beach, edit the details and send - no searching for post cards, no hunting around for stamps or a post office - just enjoying your holiday, easy peasy.
If you click on this bottom link, you'll see it takes you to a bunch of pre-designed cards. You can click on any of those and then choose to add your own picture to it, so you can personalise everything down to the font and layout too.
If you download the app (the first link) you'll be able to do it all straight from your phone.
I love the idea of being able to send a personalised photo - the kids in front of the Eiffel Tower, us all in the blue waters of Dubrovnik - and it not costing much more (less, perhaps!) than a postcard plus stamp home, and taking no time off our travels at all.