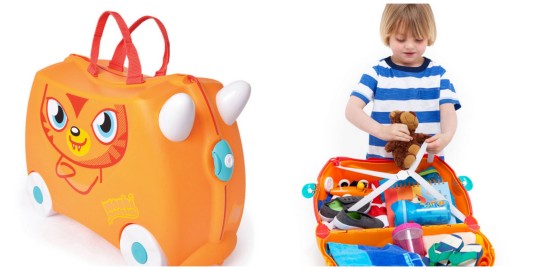 Everyone loves a Trunki but fans of Moshi Monsters will go monster-raving-loony for this Katsuma Trunki, and you can snap one up now for just £25.91 delivered.
Click here to order yours from Surfdome*
Normally priced at £35.99, this is currently on special offer at £28.79 but if you use the voucher code FRESH10 you'll get a further 10% off that offer price, which means it can be yours for £25.91 delivered. Pretty awesome. Just add the item to your basket and then don't forget to type the voucher code into the relevant box when prompted at the basket checkout stage. Couldn't be easier.
As well as being the right size for a toddler's holiday luggage, Trunkis are super-fun to travel with - not least because little ones can sit on them and get a ride along, pulled by the parents!
We travelled long-haul when two of my lot were rambunctious toddlers, and our Trunkis basically saved everyone's sanity. I can't recommend them enough. The lockable catches are a brilliant additional feature for keeping little ones' valuables safe, and the internal 'teddy bear seatbelts' (otherwise known as luggage straps)  have huge novelty value for kids. The carry strap is detachable and the carry handle is well-enough designed for littlies to be able to carry their suitcase if required.
We still totally wish they did a Trunki for grown-ups, though!