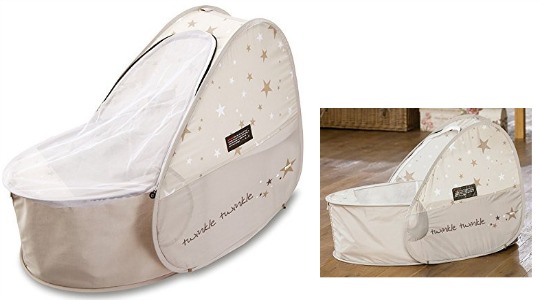 Going on holiday with baby soon? When mine were little babies I was reluctant to put them in the travel cots supplied in the holiday accommodation. I would sometimes take the Moses Basket, but it was too bulky. You need a pop-up version that's not a bother to take with you and the Koo-di Sun and Sleep Pop Up Travel Bassinette is just that. Get one for just £20.36 with FREE delivery included at Amazon. This is the BEST price we have EVER seen these for.
The Koo-di Sun and Sleep Pop Up Bassinette is not just for holidays. Having a day at a friend's or a sleepover at Grannie's House? These are ideal for when baby needs a nap or a full nights sleep.
They are suitable for babies aged from birth up to six months old. It comes with a padded mattress to ensure your little one gets a decent night's sleep.
With an integrated zip-up mosquito net and an integrated zip up black out/sun blind, these can be taken to the beach to give baby some shade.