Kiddicare Deluxe Buggy Bag With Wheels £9.99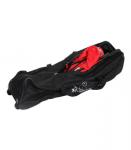 This Kiddicare deluxe buggy bag with wheels is ideal for families who fly abroad (or within the UK too) and need to take a pushchair with them.
I fly quite a lot and the amount of parents I see crossing their fingers and hoping for the best, when they wave goodbye to their little one's pushchair, only to see it emerge at the other end in n-o-t quite the same state is staggering.
A nifty solution could be this Kiddicare deluxe buggy bag.
It's made from a heavy-duty waterproof and rip-proof material and has wheels on the bottom, so you can pack the pushchair away and pull it along when it's not being sat in. It also has a lockable zip too.
You could also use this bag to store your pushchair when you're not using it too. Or keep it in the boot of the car if you're out and about in the rain, and pack it away when you're ready to go home keeping your boot and whatever else is in there clean and dry.
The retail price for this bag is £41.99 but are currently on offer at Kiddicare for just £9.99 with standard delivery costing £4.99.
Thanks to crazyterrier2000 over at HUKD