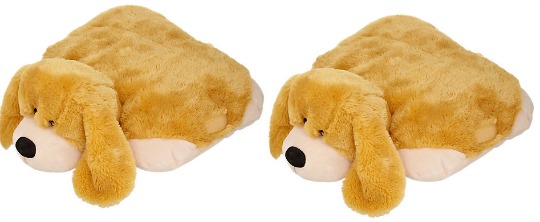 Reduced from £10, you can also collect this for free from a John Lewis or Waitrose store.
Like the pillow pets and many others, you can velcro this cutie underneath for a cuddly companion and when the velcro is unfastened he becomes a pillow. He measures 40x47cm and is machine washable.
We have a few of these and they really are good for long journeys. The only downside of these pets is that they can be often be quite large and bulky, which is why I'm a fan of this one, he's the perfect size to throw in a case, boot or bag, while still large enough to be useful.
The reviewers over at John Lewis are loving him too, with one commenting :
Bought these for grandchildren 6 and 8. They love them. They're so soft and cuddly and practical too for travelling in the car.
These do tend to vary hugely in price, I think this one's a bargain-what about you?
As I mentioned above you can collect him for free at a John Lewis or Waitrose near you for free, or opt for him delivery but that will cost an additional £3.
Thanks to heathergreen1 @ HUKD!