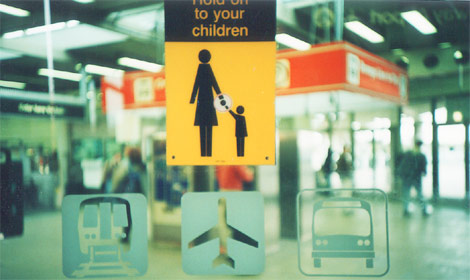 What can parents get for free at Heathrow airport? Not a lot, but we've ferreted out what little there is.
Family friendly?
Heathrow has the facilities and supplies you'll need if travelling with children. That's what it says on its website, so it must be true, right? Note though the missing word 'all'... The sentence implies that, but it doesn't actually say it.
I've travelled through Heathrow a number of times: with a tiny baby, a crawling baby, a toddler... on my own, and with my partner. I can honestly say that I've never noticed an over-abundance at Heathrow of the sorts of things parents want in an airport. At Sydney airport, I got a freebie pass to the lounge area. Hong Kong airport staff carried bags and whisked the parents with children (of any age) through passport control. Fragrant hot showers and fluffy towels were on offer in Singapore.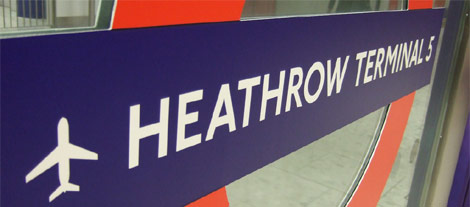 I've spent the hours between flights in comfy rooms with cots, microwaves, bottle warmers and recliner armchairs. In Auckland airport, my son worked off some excess energy in the reasonably priced soft play.
One thing I can say for sure that Heathrow is vast for an airport. And that you should definitely allow for a good 40 minutes to make it through security. Plus, you really do want to add on another half an hour to get to your gate. That's an hour and ten minutes. Which means I can also say from long experience that you should not, under any circumstances, stop to eat in Garfunkles on either side of security, if you've only got two hours before your flight leaves.
If you're looking for a 'family friendly' experience though, you're going to have to bring it with you. Work out all the easiest ways to travel through the airport before you get there, because to be honest, there's not a lot of help for parents.
Claire Lovelady, BAA's Commercial Communications Executive, did her best to help when we called. However, she wasn't able to find out anything additional to what is on the airport's website. For parents, especially those that were on their own, she did advise that "special assistance can be booked through the airlines."
Food and feeding

There are restaurants at Heathrow with child menus. And that's about it. There are a few baby care rooms with separate, private areas for breast feeding or bottle feeding baby. It is just that finding these particular baby care rooms is a bit hit and miss. They're not marked on any of the airport's maps. Some baby care rooms offer everything even a cot (found once in Terminal 4 a couple of years ago, but not been seen since). While others are just dark cupboards with a bench and padded mat for changing baby. Be warned that this latter type is the only kind of baby care you'll find once you've gone through security at Terminal 4. Once you're in one of the terminals, keep an eye out for the signs. A bottle sign indicates feeding facilities.
If you want a bit of quiet and privacy, the best idea is to find a gate that's not being used and sit on the seating there. At least you can watch the planes while baby has lunch.
Babycare

To find child facilities at the airport, you are directed to the Terminal maps. These maps are, for parents, about as useful as a chocolate teapot. As mentioned, none of them state what kinds of baby care facilities are on offer in a babycare room. Also, confusingly, you won't find any babycare facilities marked on the map for Terminal 5. As Claire explained to us, "The babycare facilities tend to be a separate unit between the men's and ladies toilets."
Entertainment
No matter how short or long the flight is going to be, it is always a good idea to let the kids have a bit of a stretch before boarding.
In Terminal 1 you'll find an unsupervised soft play for children aged two to six near gates 35 to 56. Terminal 5 has three of these play areas, suited to children up to eight years old. These are located in the departures hall, after you have passed through passport control. According to iFly, a website providing guides to airports around the world, these play areas are by gates 7, 19 and in satellite terminal 5B.
We also found this freebie tip on the Heathrow Information website. According to the site, "colouring packs containing crayons and a colouring book can be picked up free from the BAA information desks."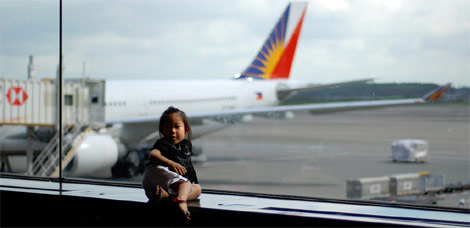 Parting with cash
If you really do want to spend some money on keeping the kids happy, you can. For £15 for two hours, children up to 15 years old can have some fun in the Jetterz Kids Club lounge. Here's what it says on the airport's website: "This fully supervised lounge for five to 14-year-olds can be found after security control in Terminal 3 departures. It's equipped with TV, a DVD player, reading material, toys, games and computer games."
Really though, unless you're stuck in the airport due to delays or similar, it doesn't seem worth the money. Even more so the £20 per adult and £10 per child it will cost you for the privilege of using two decks of the 4Deck Lounge in Terminal 4, where you'll get "complimentary refreshments, magazines, interactive toys and games for pre-school children."
Not when there are plenty of corridors in the terminals where you can let the kids run up and down, watch the aeroplanes, and climb over empty seats at unused gates, for free!
[Photo credits: Pierre LaScott, spiesteleviv, kidperez, chippenziedeutch, Leonid Mamchenkov, James Cridland]