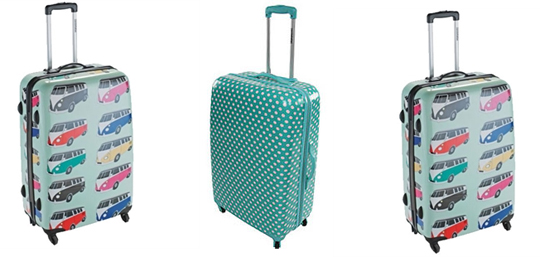 I'm looking for a hard shell suitcase. I need to take a few fragile items to South Africa in a few weeks time and my soft case on wheels just isn't going to be up to the job. Home Bargains have two hard shell suitcases on wheels for just £39.99 at the moment; both of them have a capacity of 95l.
Have you SEEN the price of hard shell suitcases?  I know you get what you pay for, but £100 plus?! Seriously?!
Well I'm not paying that sort of price for a piece of luggage, ever, so I've been on the prowl and came across these Polka Dot and Camper Van hard shell suitcases over at Home Bargains; the Polka Dot case is £39.99 (reduced from £89.99) and has approximate dimensions of: 70 x 29 x 47cm.
For my money, though, the Camper Van hard shell suitcase is far more 'cool' (and would be very easy to identify in the baggage carousel line-up!) and is also £39.99 (reduced from £79.99) and its dimensions are: H.75 x W.47 x D.29cm.
Not only does the Camper Van suitcase have retro kudos, it also features a built-in combination lock so you don't  have to worry about losing fiddly little padlock keys - a very definite plus in my book!
You can collect either suitcase in-store for free or arrange for home delivery, but that will cost you an additional £6.99 as it's a large parcel.
Happy travelling!