Girls' 4-Piece Luggage Set £7.99 @ Argos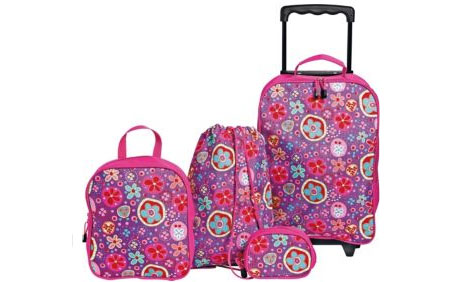 If you're a little girl you can never have too much luggage and there's no getting away from it, it can be expensive. But take heart this pretty four-piece luggage set is on sale at Argos for £7.99 instead of its original £17.99.
Even when I was small I was never a big fan of anything flowery, I was a plain black suitcase kind of gal you see. But having grown up and spent far too much of my life waiting for A G E S for my case at the Heathrow Terminal 5 baggage carousel, I'm beginning to think flowers might be the way to go. You see, my black cases look the same as EVERYONE elses black case trundling round and round and round.
You know when they've all done one loop because someone's bright, colourful and pretty FLOWERY bag has just gone round again; everytime you see that stand-out-from-the-crowd bag and yours still hasn't put in an appearance, you start to wonder if you've just missed it amongst all the other black cases or whether it's sunning itself on the beach somewhere having got on a different flight!
So whether you travel a lot with your family, or your daughter just does sleepovers, this cute little Girls' 4-Piece Luggage Set has everything she'll need for all packing eventualities.
It has a wheeled bag, a backpack, a gym bag (ideal for trips to the swimming pool) and a purse; the purse is VERY important you know.
It's available for home delivery - which will set you back £5.95 (seriously Argos, hurry up and take a leaf out of Amazon's SuperSaver delivery book) - or you can collect in-store for free.
Thanks to lucerysmum at HUKD